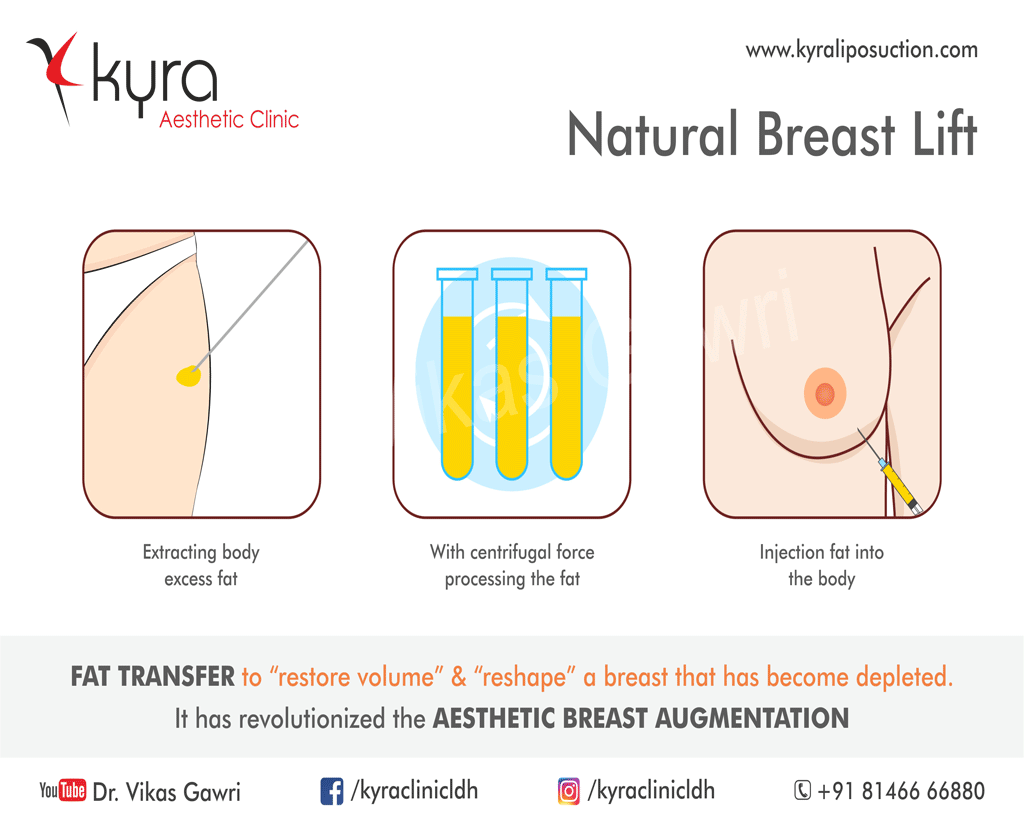 FAT TRANSFER TO BREAST FOR NATURAL-LOOKING, FULLER APPEAL

Fat grafts are used for breast augmentation, which is a natural procedure to create a fuller look. However, this procedure offers natural results, without any extreme enhancement. The procedure is minimally invasive and the fatty tissues are acquired from the patient's thighs, hips, butt or tummy. The fat is strategically transferred to the breasts, which improves the size and shape.
Why you should consider fat grafting for breast
Fat removal from buttocks, thighs, hips, or any other body part helps to achieve better contour.

The augmentation of breasts with fat provides a natural appeal and feel.

The procedure is the least invasive among other methods such as breast implants that require large incisions.

The patient receives his or her own body fat, which removes the potential risks associated with implanting any foreign component.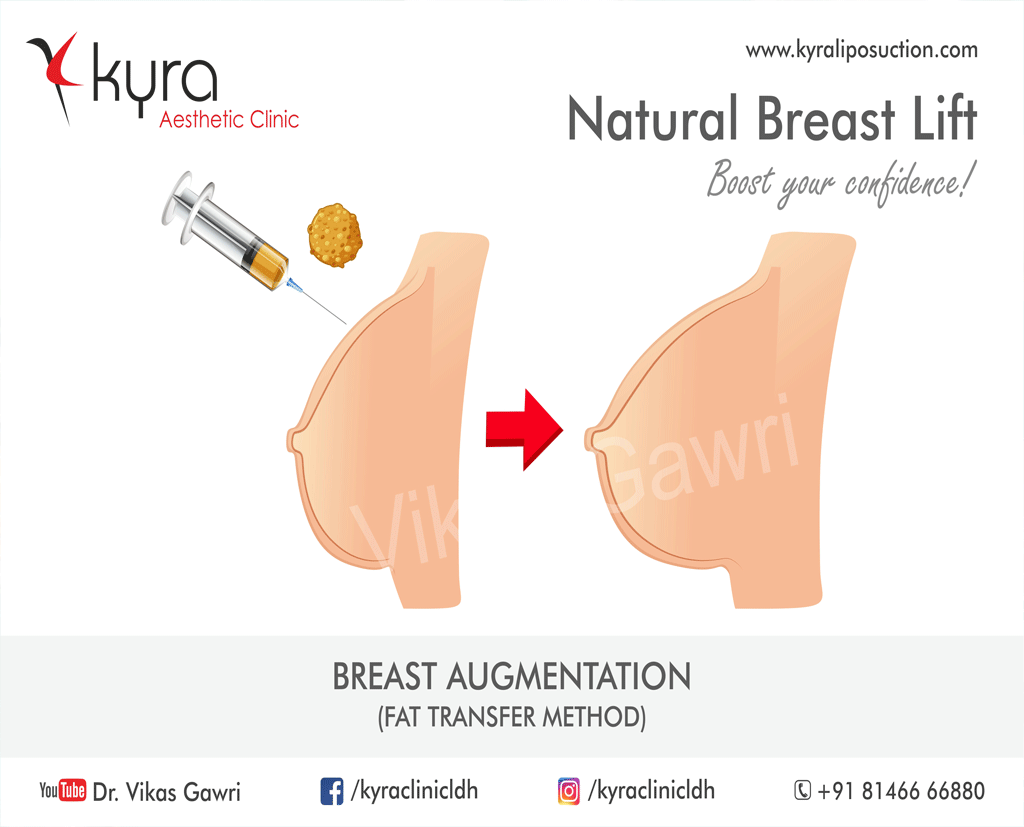 HOW DOES THE PROCEDURE WORK?
There are two separate procedures involved with fat transfer to the breast.
One of several liposuction methods is utilized for fat harvesting, such as ultrasound-assisted liposuction or water-assisted liposuction.

After the extraction of fat cells, proper processing is conducted to prepare them for transplantation. The processing of fat cells includes the removal of lipids, anaesthetics, as well as medical fluids.
The ultimate goal is to obtain healthy fat cells, so all the unwanted components are removed.
Before-After Gallery
View All
Fat Transfer to Breast Case 1
Fat Transfer to Breast Case 2
Fat Transfer to Breast Case 3
Fat Transfer to Breast Case 4
Fat Transfer to Breast Case 5
After the completion of fat processing, the injection process begins. Some space is created between the breast skin and capsule to inject the processed fat in all desired areas. The surgeon uses meticulous techniques for breast sculpting. Surgeons usually add more than the needed amount of fat because the body naturally absorbs some amount of fat injected. In some cases, doctors may recommend two procedures of fat transfer to achieve the desired results.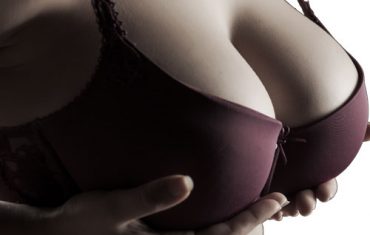 At Kyra Aesthetic Clinic, you undergo this procedure in the presence of Dr. Vikas Gawri, who is a well-known name in the field of reconstructive and cosmetic surgery. He aims to focus on giving the best results as per every patient's requirement.
Our clinic takes all precautionary and safety measures to make every patient feel comfortable and relaxed throughout the procedure.
BOOK AN APPOINTMENT Call us or Whatsapp us at
+91 80548 02500 or +91 81466 66880
RECOVERY PERIOD AFTER THE SURGERY

The completion of this procedure, from harvesting to injection takes about 2 to 3 hours. Within one week of recovery, the patient can usually begin light activities. However, the doctor recommends avoidance of strenuous exercises or activities for a few weeks. Temporary symptoms of discomfort, bruising, and swelling are possible. But they are easily manageable.
Contact today for consultation!
Frequently Asked Questions
IS FAT TRANSFER TO THE BREASTS SAFE IN THE LONG RUN?
Though for years surgeons have been worried about fat transfer to the breasts to cause lumpiness, it's absolutely rare. So yes, the procedure is safe in the long run. And in case there is a lump, the radiologist will be able to distinguish it from breast cancer.
HOW MANY TIMES CAN I OPT FOR THE TREATMENT?
In most instances, women are happy with a single breast grafting procedure. However, a second fat transfer can be scheduled because the fat retention is much better the second time. However, it absolutely depends on the patient and their goals.
WHAT CAN I EXPECT DURING THE RECOVERY PERIOD?
The breasts are expected to remain swollen but not painful or bruised—the swelling decreases in about 2 weeks, after which the breast size will remain stable. The donor areas can be a little bruised, but wearing a supportive girdle for a few weeks can make it more comfortable for the patient.
HOW CAN I FACILITATE THE SURVIVAL AND GROWTH OF THE FAT CELLS?
Fat cells are known to be sensitive to a bodily hormone – insulin. Hence, having a high carbohydrate diet for a couple of weeks after the fat grafting procedure will increase blood insulin levels, allowing the fat cells a better chance to survive and grow.
HOW MANY CUP SIZES INCREASE FAT TRANSFER?
For people with smaller bust sizes, opting for a fat transfer can lead to a one or two-cup size increase in breast size. However, if you're looking for a larger size increase, it is better to go for a transplant. A fat transfer can definitely help increase the size of drooping breasts, but if you want a perkier look, a break lift would be an ideal choice.
CAN FAT TRANSFER TO THE BREAST CAUSE LUMPS?
They usually feel slightly uneven and lumpy after getting a fat transfer to the breasts. However, that is only temporary. It usually takes a couple of weeks for the fat to settle, and the final result might not even show for a few months because the body will absorb some amount of the fat.
WHICH IS BETTER, BREAST IMPLANTS OR FAT TRANSFER?
If you're looking for a more natural feel, going for a fat transfer is a better idea because you won't have to deal with foreign materials being present in your body. You can not only enhance your breasts but also sculpt the body part that has excess fat. Fat transfer procedures also have a safer track record with comparatively fewer complications post-surgery.
HOW MUCH IS THE COST OF A FAT TRANSFER TO THE BREAST?
The price of fat transfer to the breasts will usually differ based on several factors. If you're thinking of getting the surgery done in India, the cost could be anywhere between INR 50,000 and INR 1,10,000. However, this is just a rough estimate. Please book a consultation with us to get a quote from our doctors.
DO FAT TRANSFER BREASTS FEEL NATURAL?
Absolutely! When you choose to go the fat transfer route for breast augmentation, you can expect them to feel and look more natural because it's your own body fat that would be used in surgery. Because of this reason, this procedure is often called 'natural breast augmentation surgery.' A fat transfer would be a great choice if you don't want to add foreign materials to your body.
DOES FAT TRANSFER TO THE BREAST HURT?
The pain you might experience during and after a fat transfer is minimal. Before surgery, you'll be under general anaesthesia, so you won't get to feel a thing. Swelling is normal for about three weeks, but it won't be a big issue after that. You'll experience a little bit of discomfort and pain for a few weeks, but you'll hardly remember it afterwards.
HOW LONG DOES FAT TRANSFER LAST?
Once the fat grafts settle in your body, they will stick around for good, which means you can enjoy lasting results. However, it's essential to acknowledge that they won't stop the natural aging process. So, the grafted fat will break down over the years. Still, you can enjoy your new look for decades, if not longer, until the effects gradually fade.
IS THERE ANY SIDE EFFECT AFTER FAT TRANSFER?
Yes, there are a few side effects that you can expect after undergoing a fat transfer surgery. Typically, you might experience some swelling and bruising around the treated and donor areas. It is entirely normal, and it subsides over time. However, there is also a risk of infection. If you feel a lot of discomfort, get in touch with your doctor immediately.
CAN YOU TRANSFER BELLY FAT TO THE BREAST?
Absolutely! You'd be surprised to know that excess belly fat is known to cause a lot of health issues, but by undergoing a fat transfer, you can put it to good use. It is possible to use your belly fat for breast reconstruction in order to achieve a fuller bust, provided your body has the required amount of fat.
AT WHAT AGE CAN YOU GET FAT TRANSFER TO THE BREAST?
You can go for a breast augmentation procedure via fat transfer anywhere between the ages of 18 and 70 years. It is considered to be one of the natural ways to increase breast size without having to worry about long-term issues, such as leaking implants or capsular complications, that are often linked with implants.