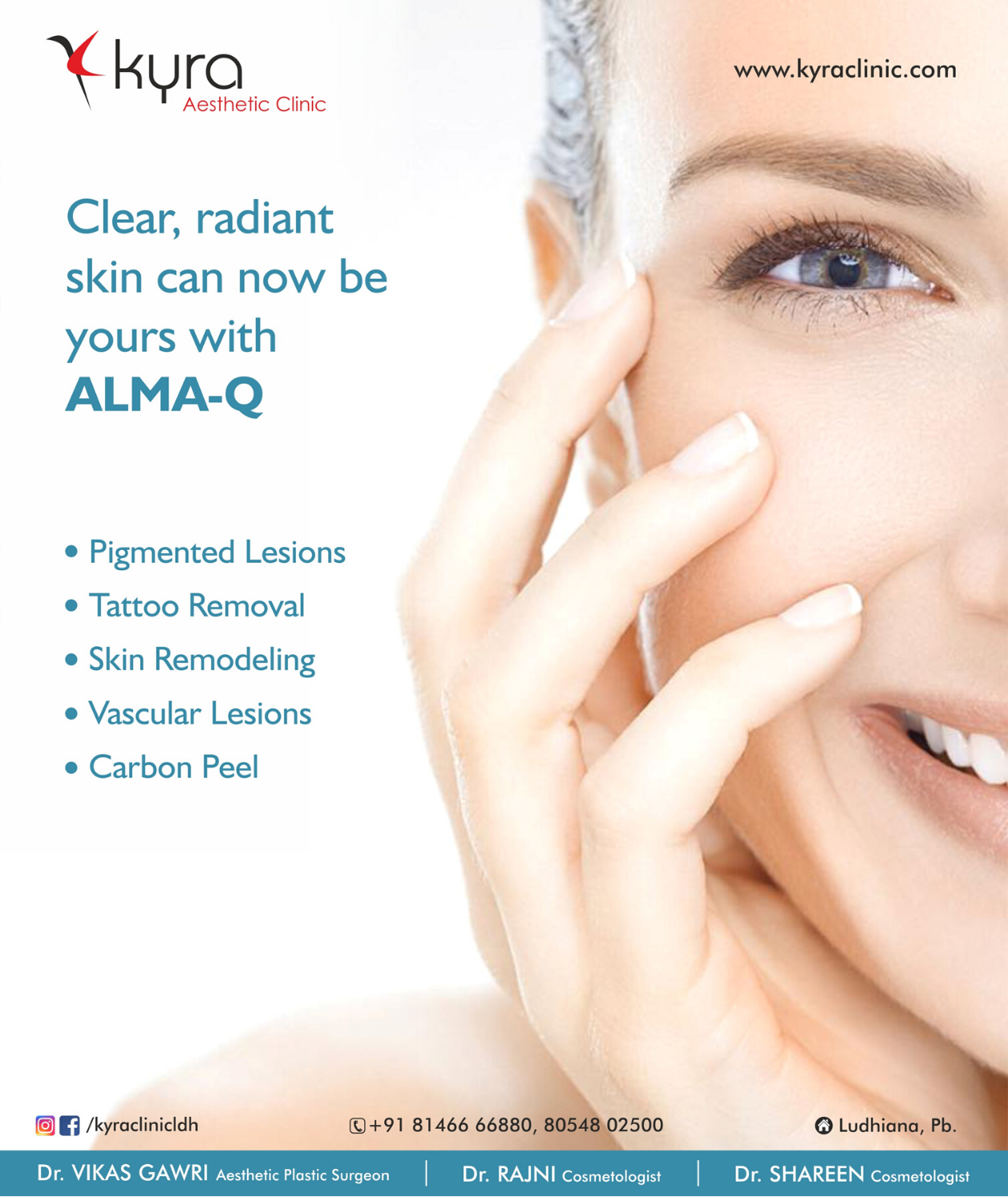 While excessive exposure to sunlight is a common cause, skin pigmentation is possible due to various causes such as skin trauma, hormonal imbalance and more. Thankfully, modern laser technology is capable of removing skin pigmentation when used precisely.
At Kyra Aesthetic Clinic, professionals use a perfect type of laser treatment after classifying your pigmentation. Pigmentation can vary from superficial to deep, and some people suffer from both types. Doctors evaluate your skin type and the intensity of pigmentation to use the best-suited course of laser surgery.
You can get freckles, age spots and other kinds of pigmented lesions removed or lightened at Kyra Aesthetic Clinic. We also effectively clear pigmentation that appears due to hormonal factors of summer sun exposure.
PIGMENTATION REMOVAL WITH LASER: HOW IT WORKS
Our experienced cosmetic surgeon evaluates your pigmentation to define the area of treatment. The procedure involves the application of a chilled gel first. Then, our doctor uses precise short pulses of laser to accurately treat the pigmented area. You receive complete protection and assistance throughout the treatment.

WHO SHOULD GET LASER SKIN PIGMENTATION REMOVAL?

Most people can use this treatment unless they have a very tanned or dark skin tone. However, the suitability and effectiveness of laser treatment change from person to person. This is why our experts offer personal consultation to help patients take the right path to treatment.
If our doctor finds you a perfect match for this treatment, all areas on your body and face can receive the laser treatment. Pigmentation visible on your face, hands, neck, shoulders, and chest can be removed successfully.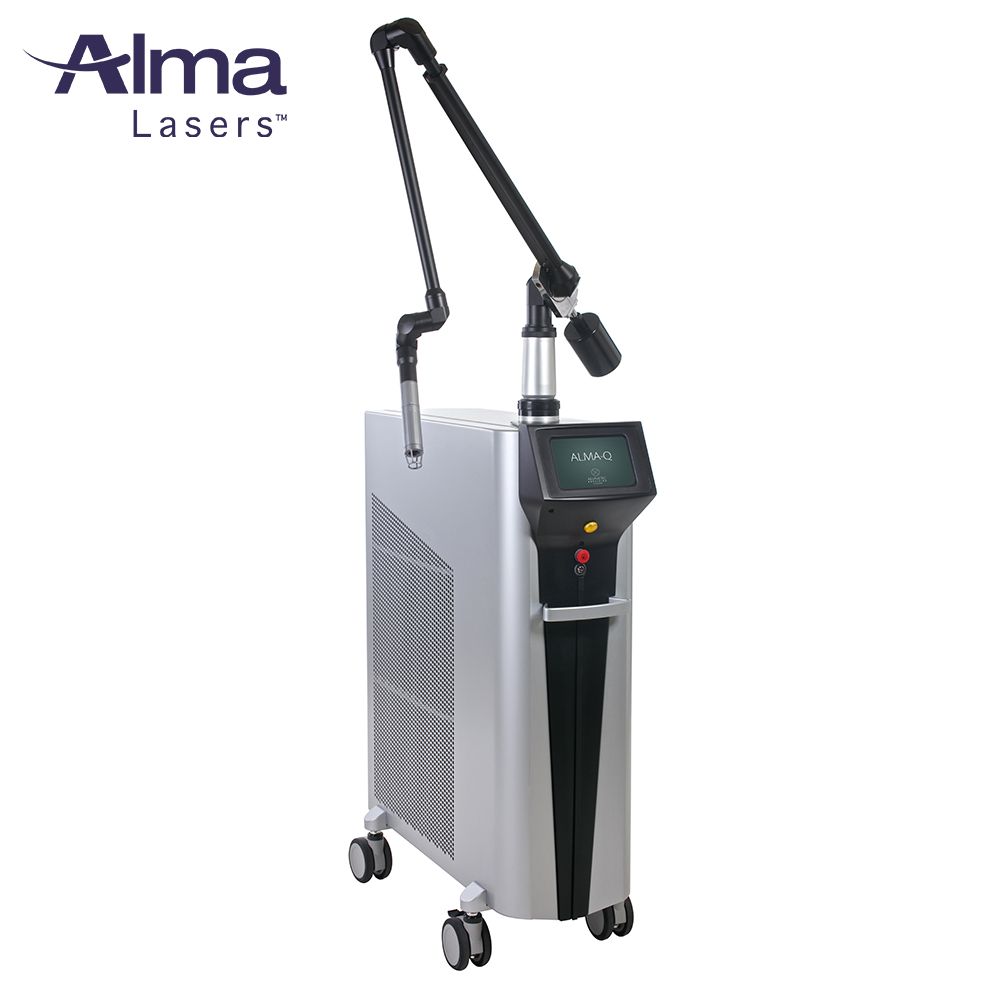 AESTHETIC PRECISION

THE SAFEST AND MOST PRECISE LASER TREATMENT SOLUTION AVAILABLE FOR SKIN REMODELING, PIGMENTED &VASCULAR LESIONS AND TATTOO REMOVAL
Alma-Q presents the most powerful triple mode Nd:YAG laser treatment solution available, featuring Q-switched, Long Pulsed and Quasi-Long Pulsed modes on a single, dedicated platform. With Double Pulse technology offering up to 2,000mj per pulse, an extraordinarily short pulse width of 7nsec, unique technological innovations including depth control and fractional delivery and additional options of working with both the Long Pulsed and Quasi-Long Pulsed Nd:YAG 1064nm laser, Alma-Q is unmatched in its power and versatility for treating a wide range of aesthetic dermal indications.
IS THE PROCESS PAINFUL?

While the procedure involves no pain, it is possible to feel a little bit of discomfort. The discomfort level depends on a patient's skin sensitivity. Most people feel minimal discomfort and easily tolerate the process of laser treatment.
It is important to know that skin sensitivity varies from one area of your body to the other. Your initial consultation is the phase when our cosmetic surgeon will inform and prepare you for the treatment.
With Kyra Aesthetic Clinic, you don't have to worry about the safety or accuracy. Our advanced technology and precise techniques target the damaged tissues only. Highly trained professionals stay present, so you can feel concern free regarding the safety of your skin.
BOOK AN APPOINTMENT Call us or Whatsapp us at
+91 80548 02500 or +91 81466 66880
TREATMENT PERIOD AND POST-TREATMENT SYMPTOMS

The duration of treatment depends on the size, type, and intensity of pigmentation on your skin. Usually, this time duration is between 10 and 30 minutes. Some pigmentation types require multiple sessions to get the desired results.
Most patients face no intense or permanent side effects after this treatment. The skin surrounding the treated area may look red right after treatment, which goes away in a few hours or several days. In rare cases, people experience temporary darker or lighter skin tones or small blisters. But, don't worry! They are all removable with simple care.
CONSULT OUR COSMETIC SURGEON!

Contact our surgeon to get informed more about our laser treatment approach.
Frequently Asked Questions
HOW MANY SESSIONS WILL I NEED TO SEE RESULTS?
Your doctor will develop a treatment plan based on several factors, such as size, depth, location, and type of pigmentation. Certain lesions will need several sessions to see optimal results, while others can be resolved in one treatment. On average, at least 2-3 sessions are required for complete removal.
WHAT TO EXPECT AFTER THE TREATMENT PROCEDURE?
After receiving the treatment, patients experience temporary reddening or discolouration of the skin near the treatment site. You can use makeup after the treatment. As the laser technology is gentle on the skin, patients will be able to head back to work after the session.
DOES IT HURT TO REMOVE PIGMENTATION WITH A LASER?
Most patients are known to report minimal discomfort during the treatment, but the results are absolutely worth it. Because we have the latest technology at our disposal, you can expect faster and shorter duration pulses, making the procedure as comfortable as possible for you.
HOW LONG DOES IT TAKE TO PERFORM THE TREATMENT?
Each session can roughly take about 5-30 minutes, depending on the size of the area that is being treated. If topical anesthesia is administered, it will take 20-30 minutes more to take effect. You should discuss it with the staff to get a clearer idea.