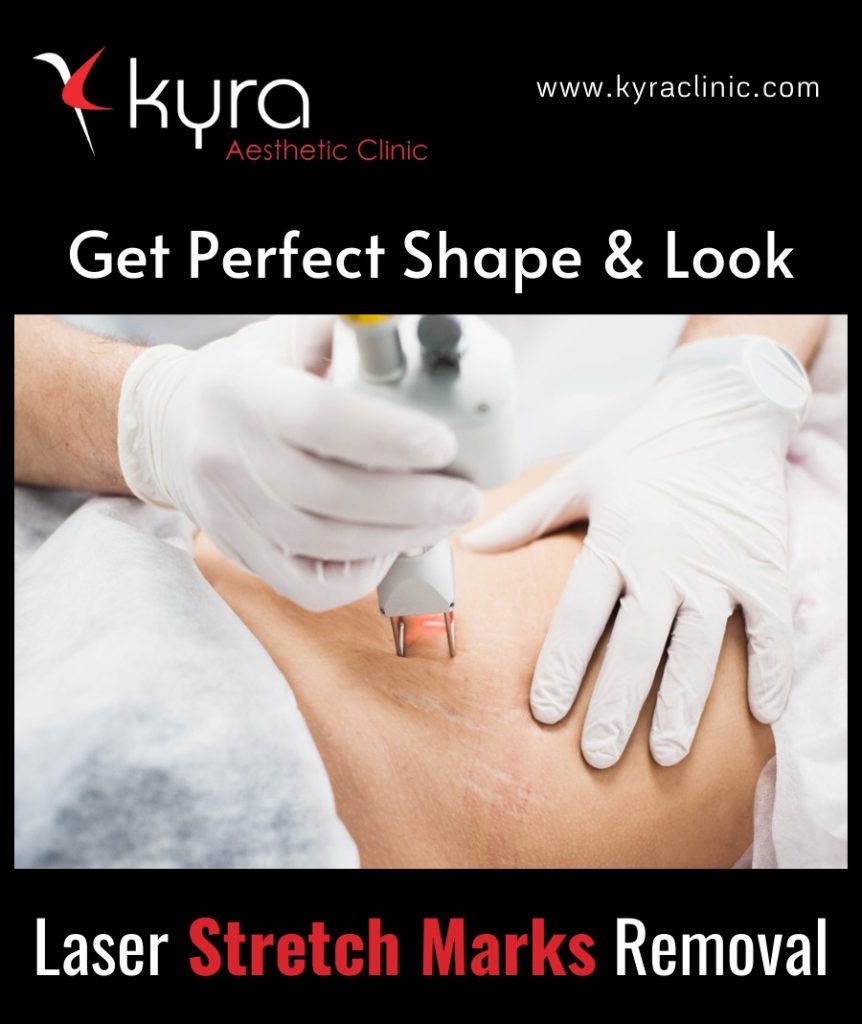 Do you feel conscious about reddish, pink stretch marks visible in many areas of your body?! Those marks are commonly called stretch marks. They can occur in many areas of the body and become a reason to feel less confident for many people. Majorly, they are seen on thighs, buttocks, upper arms, abdomen and breasts.
These streaks appear as if you have a scar on your skin. Kyra Aesthetic Clinic has one of the best professionals to conduct this laser procedure with precision and remove those stretch marks for good.
WHAT MAKES STRETCH MARKS APPEAR?
Also known as striae, stretch marks usually appear during some kind of skin-related hormonal imbalance. Almost all women experience these marks during pregnancy.
The reasons for stretch marks can be-

Pregnancy

Certain diseases

Weight gain

Puberty

Physical condition changes

Stress
FEEL MORE COMFORTABLE WITH YOUR BODY WITH COMPLETE STRETCH MARK REMOVAL

Stretch marks make your skin look strange, so you feel ugly and less confident about your body and skin. You can't remove these marks with any home remedies. There are many oils and creams available out there, but they are unable to provide any form of results.
The stubbornness is due to the deep level tearing of your skin, which ruptures certain fibres called collagen. So, you need laser treatment to remove these extensive skin ruptures.
TREATING STRETCH MARKS WITH A 100% SUCCESS RATE

We, at Kyra Aesthetic Clinic, provide laser therapy for stretch mark removal. Our advanced laser technology efficiently penetrates below the surface of the skin and experts deliver precise results.
No matter what the cause of your stretch marks is, we can repair and remove them with our authorized and safe technology and techniques.
IMPORTANT FACTS TO HELP YOU PREPARE
The procedure doesn't take any longer than 20 to 30 minutes, depending on your treatment area size.

There is only a minimal pain you might feel during a laser procedure.

The number of required treatments differs from patient to patient. Usually, 3 to 5 sessions are enough for the desired results.

Typically, people can begin their everyday activities right after the completion of their treatment. However, our doctor will provide guidelines specific to your case for successful and safe recovery.

Post-treatment symptoms may include some temporary swelling and redness in the treated area. These symptoms only last for several days, then, diminish gradually. The doctor will provide personal consultation to discuss potential post-treatment symptoms and their management.
At Kyra Aesthetic Clinic, we have the finest surgeon with more than 15 years of experience to perform the procedure. Our surgeon, Dr. Vikas Gawri, is known for his artistic precision when conducting cosmetic surgeries and treatments. This has been the reason for his 100% success rate in laser treatment to repair stretch marks.
BOOK AN APPOINTMENT Call us or Whatsapp us at
+91 80548 02500 or +91 81466 66880
GET OUR PROFESSIONAL CONSULTATION!

If you are looking for a permanent solution for your stretch marks, contact us today for a laser treatment consultation. You can call our representatives to ask any query and schedule a personal meeting with a professional.
Frequently Asked Questions
HOW QUICKLY WILL I RECOVER FROM THE TREATMENT?
In most cases, you will be able to resume your regular activities on the same day of taking the treatment. However, if you opt for a more aggressive version of the treatment, you will have to give your body a couple of days to heal.
ARE THERE ANY SIDE EFFECTS OF THE PROCEDURE?
There will be a few side effects that you might experience after the treatment. Some of them include swelling, redness, and brown debris on the skin surface, which usually last for about a few hours. However, for some people they last for even 3-5 days.
WHAT IS THE COST OF THE TREATMENT?
The cost of the treatment will depend on multiple factors, such as the area of the skin, size of the stretch marks, and the medical facility. Therefore, it is best to consult our doctors to receive a realistic quote on the laser stretch marks removal treatment.
HOW MANY SESSIONS WILL I NEED TO SEE VISIBLE RESULTS?
The number of sessions you will need for stretch marks removal will depend on the area and size of the area being treated. Generally, it takes about 3-5 sessions in order to get rid of scars and stretch marks. Your doctor will give you a realistic estimate of the total number of sessions you might need for your condition.