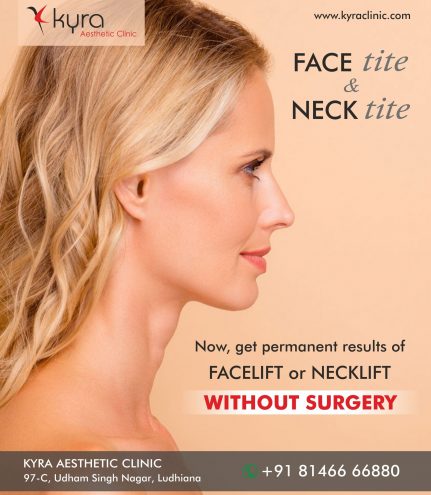 A lot of people struggle with a sagging neck or uneven fat deposit on the neck. The most common reason for this is ageing, but it can also occur due to diet, lifestyle habits, or genetics. However, no matter what the reason is, almost everyone would love to get rid of it safely, if possible. Well, it is possible.
Neck Lift effectively removes the excess fat under the skin, replenishes it, and then tightens your skin to make it look young and lively again.
If you think that it's a highly invasive surgical treatment, then it's not. Instead, Neck Lift is a minimally invasive process that uses a controlled radiofrequency, heats up the skin, and melts down the excess fat under the skin.
Safe, Gentle and Effective minimally invasive procedures for the Face & Neck skin tightening and fat reduction. The most advanced facial contouring and refinement procedure to reveal a younger looking you.
HOW DOES IT WORK?

As mentioned earlier, Neck Lift is a minimally invasive non-surgical process, so you won't have to go under the knife. A local anesthesia is injected in the area of treatment, after which a thermal probe is placed under the skin to heat tissues. As tissues get heated, it melts down the fat and encourages collagen and elastin production in the area. The temperatures are carefully monitored throughout the Neck Lift procedure to ensure maximum safety for the client.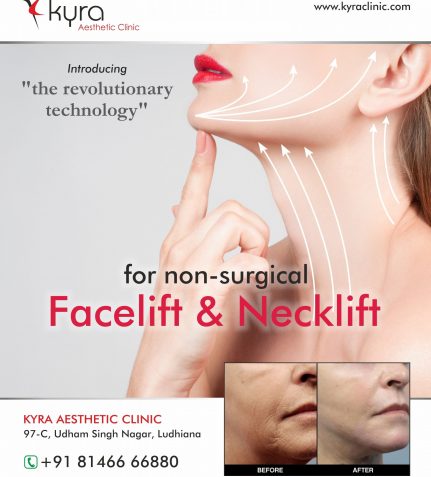 POST-TREATMENT: RESULTS AND RECOVERY

Nick Lift treatment has a very flawless track record when it comes to results. It's a minimally invasive process, so there is nothing to worry about scaring. The skin will look tighter and younger almost immediately, but the improvement will appear in its entirety over the next few months. As the body produces more collagen and elastin, the skin will gradually rejuvenate itself over time. Neck Lift Recovery may take only a day two for most of the patients. So, in just a few days, you can resume your daily activities as usual.
SIDE EFFECTS AND CONCERNS
Neck Lift usually doesn't have any long-lasting side effects. The most common side effect is a mild swelling in the treated region, which the body will recover from in a day.
A Neck Lift Procedure may not be suitable for some rare skin types or conditions. However, the physician will only prescribe the treatment after a thorough examination of the skin. Neck Lift Process cannot be done during pregnancy or breastfeeding.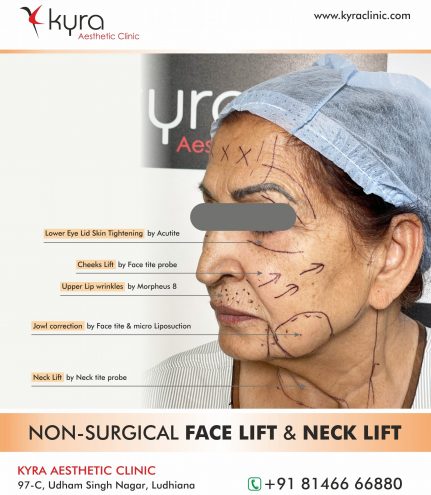 ARE THE RESULTS LONG LASTING?

This is the biggest advantage of the Neck Lift procedure. As it induces collagen and elastin production naturally, the results can last for several years, depending on your skin type.
KYRA AESTHETIC CLINIC OFFERS THE BEST
Yes, if you are looking for a Neck Lift procedure, there's nowhere else to go other than Kyra Aesthetic Clinic. We have the most advanced and technologically equipped Neck Lift treatment, conducted by highly experienced physicians with a flawless track record.
So, why hesitate? Visit Kyra Aesthetic Clinic now and get that gorgeous neck that you desire for.
Frequently Asked Questions
https://www.kyraclinic.com/procedure/neck-lift/#
People who have certain rare skin conditions or types will not be eligible to undergo this non-invasive treatment. The procedure cannot be conducted on pregnant or breastfeeding women too. The doctor will usually perform a thorough examination before prescribing this treatment.
HOW LONG ARE THE RESULTS EXPECTED TO LAST?
As the neck lift procedure is a non-invasive treatment, it naturally triggers elastin and collagen production in the neck area. Because of this reason, you can expect to see the results last for at least a few years, depending on your specific skin type.
WHAT KIND OF SIDE EFFECTS CAN I EXPECT?
Unlike any surgical procedure, you won't experience any long-lasting side effects after seeking a non-invasive neck lift. You can expect mild swelling around the neck region after the session, but it will subside in about a day or two.
HOW LONG SHOULD I WAIT BEFORE RESUMING WORK?
Neck lift treatment is a minimally invasive treatment, which means that the downtime is very low. The recovery period usually lasts for one or two days. Then, in about 3-4 days, you will be able to resume non-strenuous activities as usual.