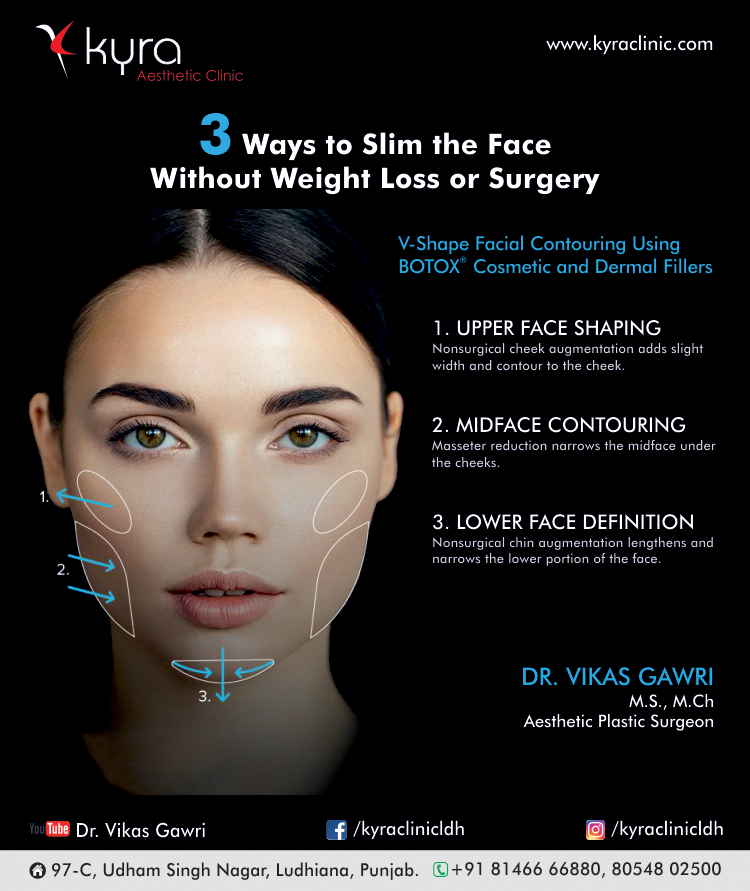 FACELIFT SURGERY TO GET BACK YOUR ORIGINAL FACIAL FEATURES
You are a young, cheerful soul, but the mirror shows an aged reflection. When you want your facial features to look young once again, using a facelift procedure becomes the right choice. The medical term for a facelift is Rhytidectomy, a surgical treatment targeted to your face and upper neck. The effects of this surgery last for a minimum of 10 years or more. Kyra Aesthetic Clinic has experienced surgeons who perform precise procedures to resolve the signs of an aging face. The procedure corrects the muscle tone, volume, loosened skin fat, and fat redistribution. Doctors lift the layers of muscle, tissues, and skin. Other associated procedures involve Browlift and Eyelid surgery to correct sagging brows and eyelid. Facts about facelift procedures
A facelift procedure fixes the aged appearance created on your face because of gravity.

The improvements become visible in the form of tightened skin in your cheek area along with your nasolabial fold and area around the mouth.

The deep underlying tissues and outer skin are remodelled, reshaped and anchored to provide lifted features.

The results contain obscure to no scars. Any obscure scars take almost no effort to be camouflaged through makeup.
DIFFERENT FACELIFT PROCEDURES

Here are all facelift techniques surgeons recommend as per the requirements and evaluations of a person's face:
Short scar lift – People with less looseness in their neck area receive this procedure. The front section of a candidate's ear gets a small incision. The incision requires no further extension and the effects last longer than 10 years. It is an outpatient procedure, during which, a patient stays under the effect of general or local anaesthesia. The bandages need to stay on for 2 days, while the suture takes 7-8 days for removal.
Mid facelift – This type of surgical procedure is limited to a patient's cheek area. A small incision created right in the ear's front area does the work. The procedure requires general or local anaesthesia with 7-8 days to remove the suture.
Lower facelift – This surgical procedure covers the jowl area, which covers the jawline and sagging skin around that area. Professional surgeons create a precise incision to remodel and reshape the muscles, tissues and skin layers systematically to achieve the desired lift.
MACS facelift – MACS or Minimum Access Cranial Suspension is provided to lift the layers in your cheeks, neck and jowl areas. After the lift, the same areas get suspended to cover bones and muscles. This procedure is popular due to less dissection and provides long-lasting results for more than 10 years.
Endoscopic facelift – An endoscopic facelift focuses on lifting a wide range of facial parts. Mostly, this facelift is combined with Endoscopic forehead and neck lift to achieve an overall effect.
Thread or feather lift Multiple types of thread lift procedures exist, including extremely small-sized incisions. However, the effects of this procedure stay effective for only about a year or so. This procedure is not for people who need skin tightening. Call now for a consultation!
Frequently Asked Questions
WILL I HAVE VISIBLE SCARS AFTER GETTING A FACELIFT?
There will be scarring after getting a facelift, but most women can hide it using their hair. Women with short hair are often advised to grow their hair slightly long till the scars are fresh—also, some people like using makeup to hide the scars.
WILL I EXPERIENCE A LOT OF PAIN AFTER THE TREATMENT?
There will be some temporary discomfort, swelling, bruising, and pain around the incision areas. However, your doctor will prescribe medication that can alleviate the pain and discomfort during the recovery period. It often takes about 2-3 weeks for the pain and other symptoms to subside.
WHAT ARE SOME OF THE RISKS ASSOCIATED WITH A FACELIFT?
Just like any other surgery, there are a few risks involved. Some of the possible risks include nerve damage, hair loss, and delayed wound healing. Your doctor will present all the risks to you during the consultation to help you make an informed decision.
HOW SOON WILL I BE ABLE TO RESUME MY WORKOUT REGIME AFTER THE TREATMENT?
After getting a facelift, your doctor will advise you to postpone any form of strenuous exercise for at least a period of 4-6 weeks. Along with that, you will also have to avoid sun exposure for a couple of months.