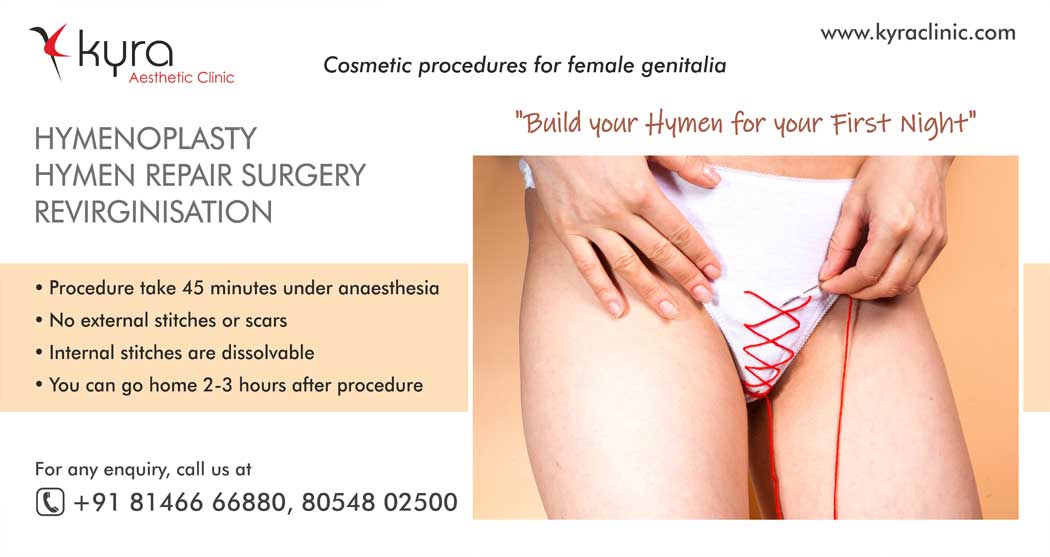 THE HYMENOPLASTY SURGERY

The remnants of the hymen are carefully dissected out, the edges are freshened and sutured in two layers. This will cover the vaginal opening with a newly reconstructed Hymen, except for a small opening left purposely for menstrual flow.
Sometimes the hymen remnants are not present, in such cases a Plastic surgeon can raise a mucosal flaps from either side of vaginal wall to create a new hymen.
RESTORING YOUR VIRGINITY FOR HIM AND FOR YOURSELF

Hymen gets disrupted after repeated intercourse or even after strenuous physical activity.


Anyway, you wouldn't want your boyfriend/future husband feel ashamed because your hymen no longer existed.

Many women would like to restore hymen which represent their virginity.
ANAESTHESIA

Hymen Repair surgery is done under local anaesthesia + I.V. sedation
DURATION OF SURGERY

The whole surgical procedure takes about 45 minutes in fully accredited operation theatres at Kyra Aesthetic Clinic.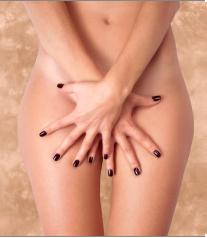 There are only internal stitches which are not visible and dissolves by itself.

There are no external stitches or marks.

She can rest in a recovery room for 2-3 hours and go back home the same evening.

Our clinical staff is well trained to assist you at every step to make your experience comfortable.
BOOK AN APPOINTMENT Call us or Whatsapp us at
+91 80548 02500 or +91 81466 66880
NOTE

Your confidentiality and privacy will be maintained strictly, as a policy of Kyra Aesthetic Clinic for any cosmetic procedure of Female Genitalia.
Dr Vikas Gawri is expert and experienced in Hymenoplasty surgery, even in difficult cases, with international certifications and trainings.
Frequently Asked Questions
IS HYMENOPLASTY SURGERY PAINFUL?
Hymenoplasty is done under anaesthesia so it is not painful.
WHEN CAN I GO BACK HOME AFTER HYMENOPLASTY SURGERY ?
Post Hymen repair surgery, she can be discharged after 2-3 hours.
WHEN IS THE FIRST FOLLOWUP AFTER HYMENOPLASTY SURGERY?
There is no followup required in most cases and the sutures applied are dissolvable.
IS THERE ANY CHANCES OF FAILURE?
No, there are no chances of failure of procedure as Dr Vikas Gawri is expert in Hymenoplatsy to give result, even in difficult cases.
WILL THERE BE BLEEDING AT FIRST INTERCOURSE AFTER HYMENOPLASTY?
Yes, there can be bleeding but it cannot be assured. Your partner will feel some resistance as in a virgin.