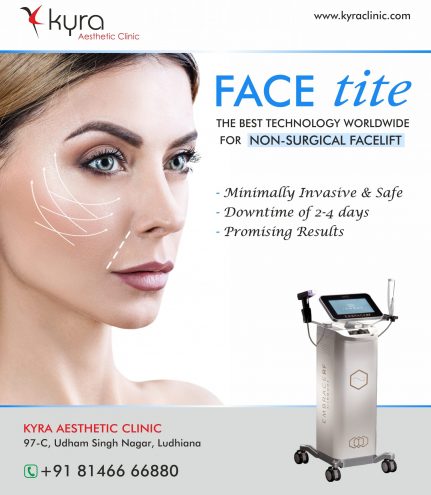 Safe, Gentle and Effective minimally invasive procedures for the Face & Neck skin tightening and fat reduction. The most advanced facial contouring and refinement procedure to reveal a younger looking you.
FaceTite is a new procedure that is comparable to a surgical facelift, without any scars. FaceLift provides dramatic improvement in skin laxity on the face and neck, which was previously only attainable through a surgical procedure such as a facelift or necklift. FaceLift utilizes minimally invasive Radiofrequency Energy to melt fat and contour skin.
Since many years there was only one option for face lift that is surgical face lift. Plastic surgeon have been performing surgical face lift but recently the non surgical procedures are becoming popular and more men & women are taking noticed. A non surgical face lift it's a combination of minimally invasive & non surgical procedures which has meant to rejuvenate & refresh the appearance of the face. Unlike a surgical face lift these techniques do not require general anesthesia, over night stay & large incisions. Also there will be minimal downtime & post operative pain & discomfort.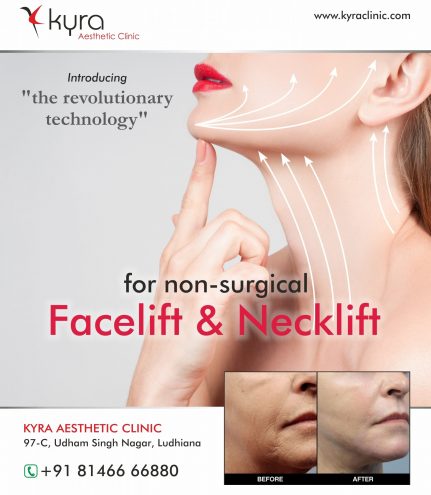 ADVANTAGES OF NON SURGICAL FACE LIFT
No large incision


No general anesthesia

Less downtime

Over night no hospitalization

No scar
DISADVANTAGE OF NON SURGICAL FACE LIFT
Moderate results

It may need repeated treatment over years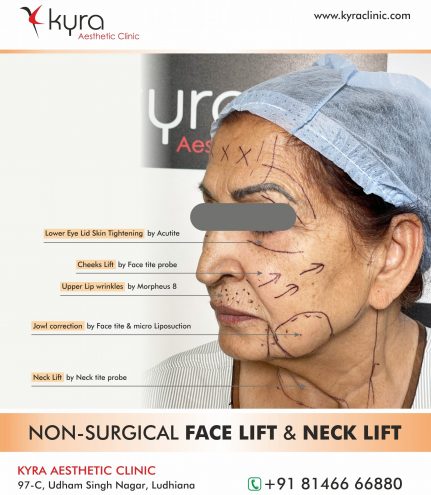 Directional thermal field provides fat coagulation and tissue remodeling.

Dual temperature technologies provide greater safety and control compared to other technologies.

100% energy concentration in the treatment zone.
AREA CAN BE TREATED

Any areas on the face and neck with saggy skin can be treated. This includes
Double Chin

Jowls

Nasolabial Folds

Under Eye
and other areas with deep lines and loose skin.
BOOK AN APPOINTMENT Call us or Whatsapp us at
+91 80548 02500 or +91 81466 66880
Frequently Asked Questions
WHO WOULD BE A GOOD CANDIDATE FOR A FACETITE?
Any healthy individual with fine lines, wrinkles, excess fat, or loose skin around the neck or lower face will be a good candidate for the procedure. Anybody interested in face contouring ant-aging treatments that are minimally invasive should consider FaceTite.
WILL THE FACETITE PROCEDURE BE PAINFUL?
During the treatment, local anesthesia will be applied to the targeted areas to ensure that the patient is completely comfortable during the procedure. After the surgery, there will be some facial tenderness and soreness, which can be managed with the help of appropriate pain medication.
WILL THERE BE SCARRING AFTER THE FACETITE PROCEDURE?
FaceTite is a non-surgical procedure, which means that there won't be any scarring. The incisions that will be made would be minimal and can perfectly heal without requiring stitches. Hence, the chances of scarring are close to zero.
FOR HOW LONG THE RESULTS OF A FACETITE WILL LAST?
After getting the procedure, the results are typically going to last for about three to five years. However, it may depend on other factors, such as health status, genetics, and environmental conditions. The treatment is known to delay or slow the aging process, not entirely stop it.