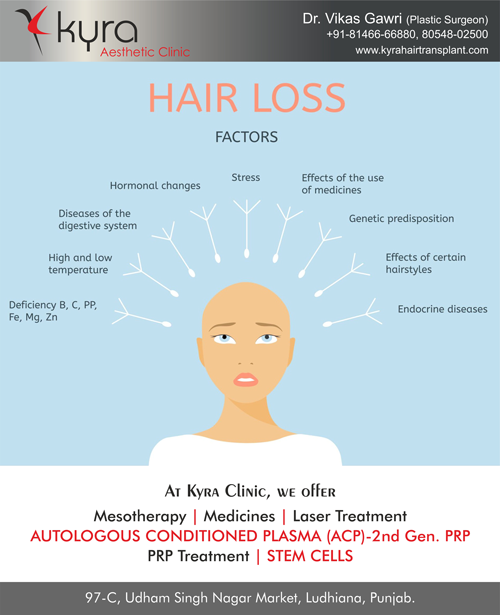 GET YOUR HAIR TRANSPLANT SURGERY AT KYRA!

Awarded as "India's Most Trusted Aesthetic Clinic", Kyra Aesthetic Clinic is globally recognized as one of the top hair transplant destinations in India. With the latest medical equipment, a state-of-the-art infrastructure, and an almost zero infection rate, our experienced team of surgeons, doctors, professional counselors, and reception staff are committed to serving clients to rediscover their youth and beauty. In order to make your cosmetic journey as smooth as possible, we will navigate you through our hair transplant and non-surgical procedures we have to offer to help you get your desired results.
Dr. Vikas Gawri, our chief and a board-certified plastic surgeon, has dedicated over 15 years of his life to cosmetic surgery. Apart from his exceptional track record in conducting 4000+ hair transplant sessions, Dr. Gawri takes an active part in national and international training and conferences. He is also a popular name in the glamour and Bollywood industries.
He has also received the ward of being "India's Most Admired Cosmetic Surgeon". He believes in giving "sincere advice" to help clients achieve a "Dense Packing" and "Natural Look" from their hair transplant surgeries.
Our famous services include –
Hair Loss

Mega Sessions (where we impact around 5500 follicles in a span of 2 days)

Body hair Transplant (where we harvest grafts from body parts other than the scalp, such as the chest, public area, beard, etc.)

Redo Cases (where we correct previous hair transplant cases done with inferior results)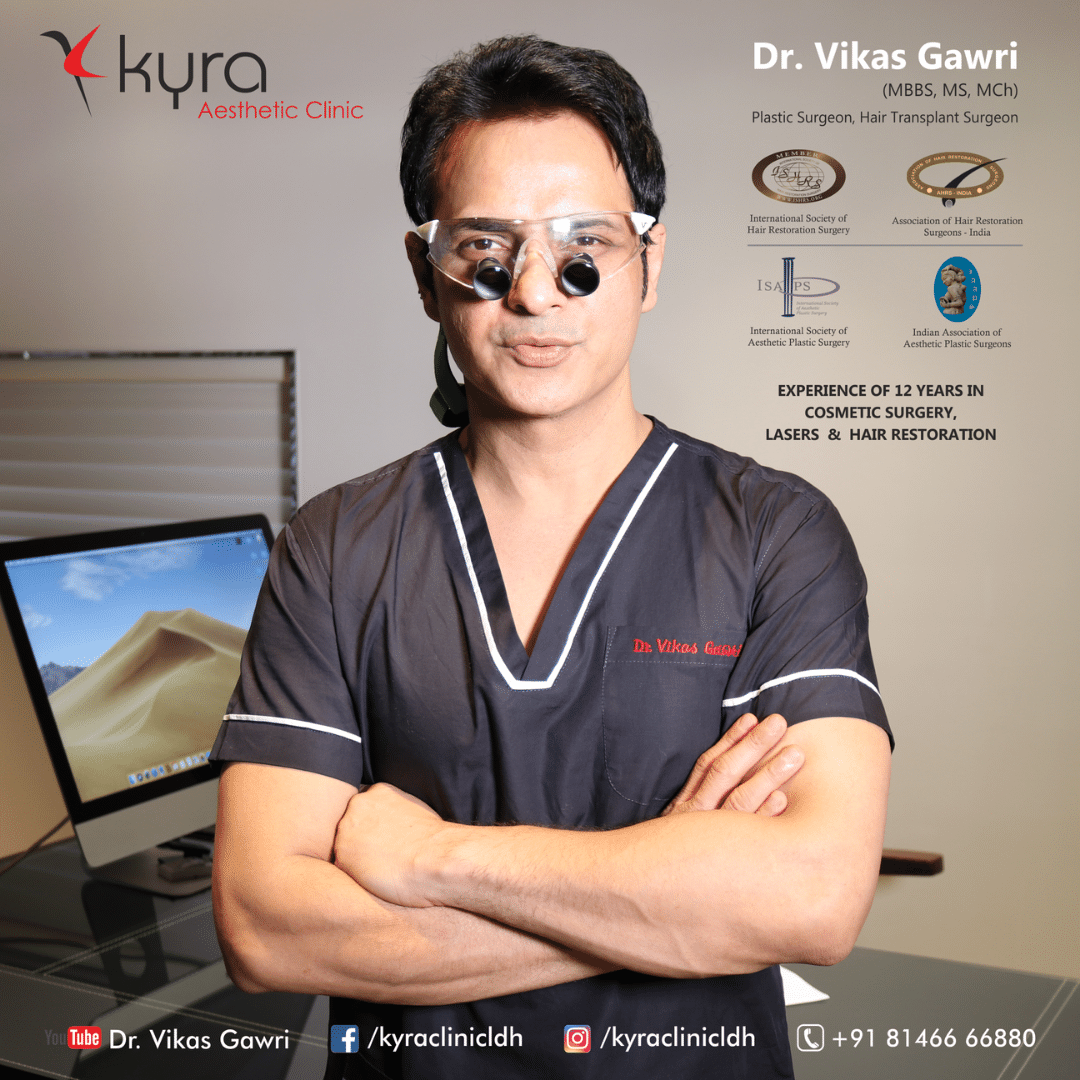 GET LIFETIME ASSISTANCE AT KYRA AESTHETIC CLINIC!

At Kyra Aesthetic Clinic, our philosophy is not only to perform hair transplant procedures but to cater to your hair loss concerns well in the future. When you choose us, you become part of the Kyra family. Follow up or revisit whenever you need us. And we will be there to offer our expert assistance.
As every case is different, we will recommend hair solutions and medications to help you protect your existing hair. We understand that hair loss is an "ongoing concern," and you can expect us to be by your side every step of the way.
ON THE DAY OF THE HAIR TRANSPLANT
You are expected to be at the clinic at 9:30 AM on the day of your surgery. You can access our location on Google Maps or call us at 0161-646042 for further assistance with the directions. Make sure you have breakfast before you reach the clinic.
Once you reach, our staff/counsellor will greet you and ask you to go through the consent form. Pictures of your head will be taken. Your hair will be trimmed to level 1, and our staff will give you pre-medication (IV injections or tablets) before the surgery.
Before-After Gallery
View All
Mushtaq Khan-Celebrity-1440 Follicles
Jasswinder-1950 Follicles
Abhijit Lahiri-Celebrity-2500 Follicles
Rakesh Shrivastav-Celebrity-2650 Follicles
Gaurav Sharma-3550 Follicles
Sukhvinder-5660 Follicles
Gaga -Beard Hair Transplant- 4100 Follicles
Amarjit Beard And Moustache Hair Transplant
DURING THE PROCEDURE–

After mild IV sedation and local anesthesia is administered, you will have to undergo three steps –
Slitting

Harvesting

Implanting
The procedure will take around 4-8 hours a day. You will be allowed to take breaks during the surgery for refreshments. Lunch will be served at around 2:30 PM at the clinic. After the procedure, we will provide you with written instructions and prescriptions medications for the following days.