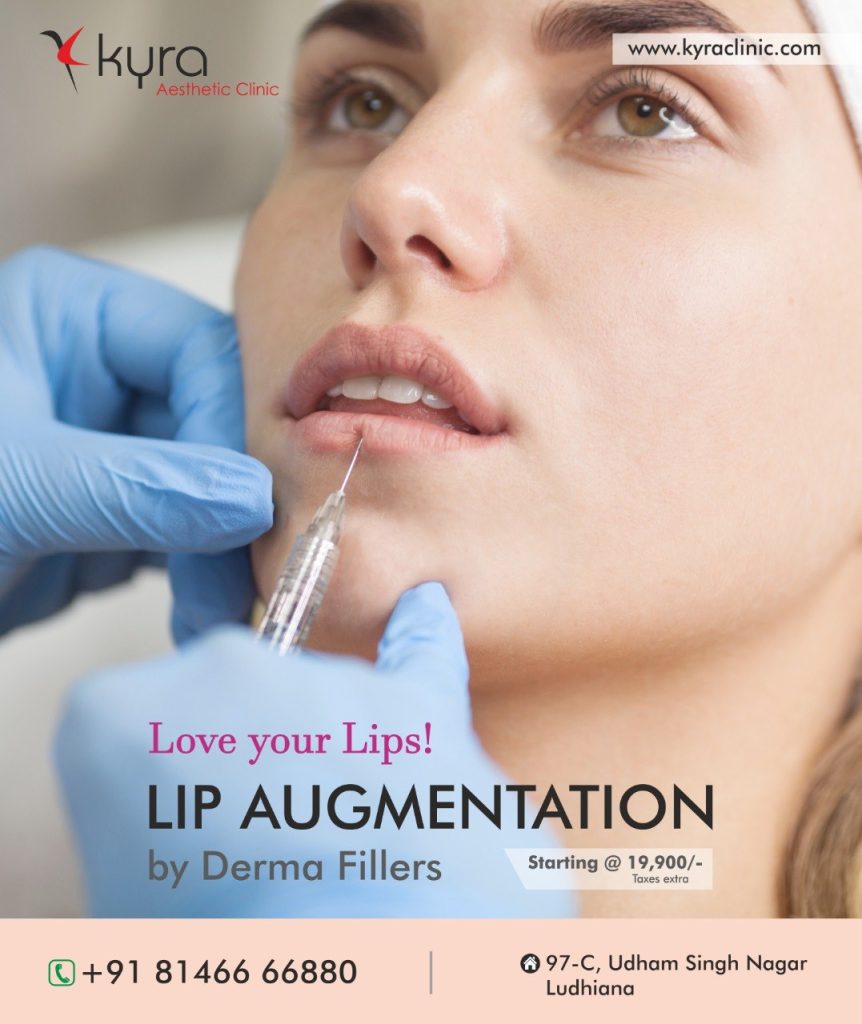 OVERVIEW

Lip augmentation is an aesthetic procedure which injects a Derma filler to give fuller and plumper lips instantaneously.

It can be injected to create an outline or border.

It can be injected in the body of the lips to increase its volume.

To give you a sexy pout, it can be injected at the central cupids bow area.
PROCEDURE

It is an office based procedure and takes only 30-45 minutes in doctor's office.
One of our doctors will take photographs of your lips for medical record and to compare the results.

You are required to sign a consent form.

An Anesthetic cream (eg.Prilox) is applied on your lips for 25-30 minutes.

The lips are cleaned thoroughly under aseptic precautions.

Our doctor injects the fillers with very fine needle at different points on your lips.

This is almost painless.

It is performed quickly with little or no downtime.
You can apply ice to ease any discomfort and reduce swelling, but do not apply firm pressure to your treated lips.

Avoid hot beverages and food for 1 day.

Lipstick or any other lip products should be avoided for 2 days.

Do not massage your lips for one week.

Do not kiss or smooch for one week.
SIDE EFFECTS

Side effects of Hyaluronic acid filler injection are rare and temporary.
Redness and tenderness at injection site.

Swelling- usually for 3-4 days.

Bruising- if any may last for 1 week to 10 days.

Lumps and irregularities in lip mucosa.

Lip asymmetry.
RESULT

The results are promising and immediate.

BOOK AN APPOINTMENT Call us or Whatsapp us at
+91 80548 02500 or +91 81466 66880
The cost of Lip Augmentation depends upon how many Dermafiller syringes of 1ml is used.

Most females need one to two syringes.

The cost for 1ml is Rs.25000/- plus GST tax 18%.
OUR ADVANTAGES –AT KYRA AESTHETIC CLINIC
Our doctors are internationally certified for Lip Augmentation and understands the lip anatomy very well.

Dr Vikas Gawri is board certified plastic surgeon,

Dr Rajni is an expert cosmetologist. She is expert in creating a cupids bow, a philtrum and attractive borders . She believes in giving natural results, NEVER LOOKING OVERDONE.

Our doctors have a collective experience of 25 years in lip augmentation.

We use innovative techniques to address lips at all ages.

We use quality products as Juvederm and Restylane.
Frequently Asked Questions
IS LIP AUGMENTATION PAINFUL?
Lip Augmentation at Kyra Clinic is almost painless. We use numbing cream before the treatment and Juvederm also contains local anaesthetic. in it
HOW LONG THE LIP FILLER INJECTION WILL LAST?
Lip augmentation filler will last for an average 18 months.
IS THERE ANY SWELLING AFTER LIP AUGMENTATION?
Yes, there is mild swelling for 2-3 days.
WHEN CAN I SEE THE RESULT?
You can appreciate the result immediately.