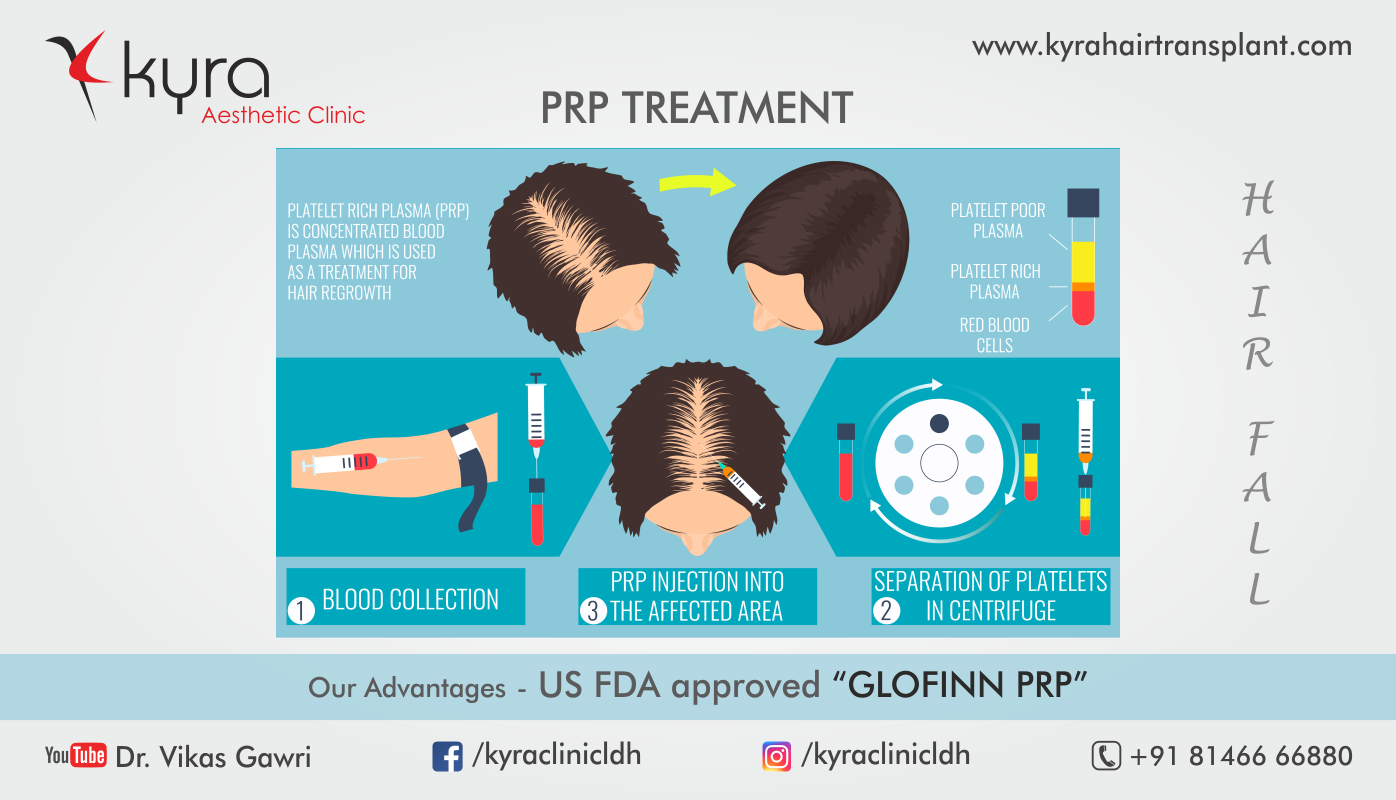 Platelet-rich plasma (PRP) is a popular treatment used by doctors to accelerate the growth of hair. It is also used for healing different parts of the body. Doctors typically opt for this surgery to reverse the effects of androgenetic alopecia, which causes hair follicles to shrink.
WHY THIS PROCEDURE?
Platelet Rich Plasma (PRP) is known to contain several growth factors and proteins that can speed the tissue repair process. Because certain types of hair loss are a consequence of damage to hair follicles, PRP treatment is useful in regrowing hair by reversal, typically in patients with androgenetic alopecia. Because of this reason, PRP injections have become a popular method of treating hair loss.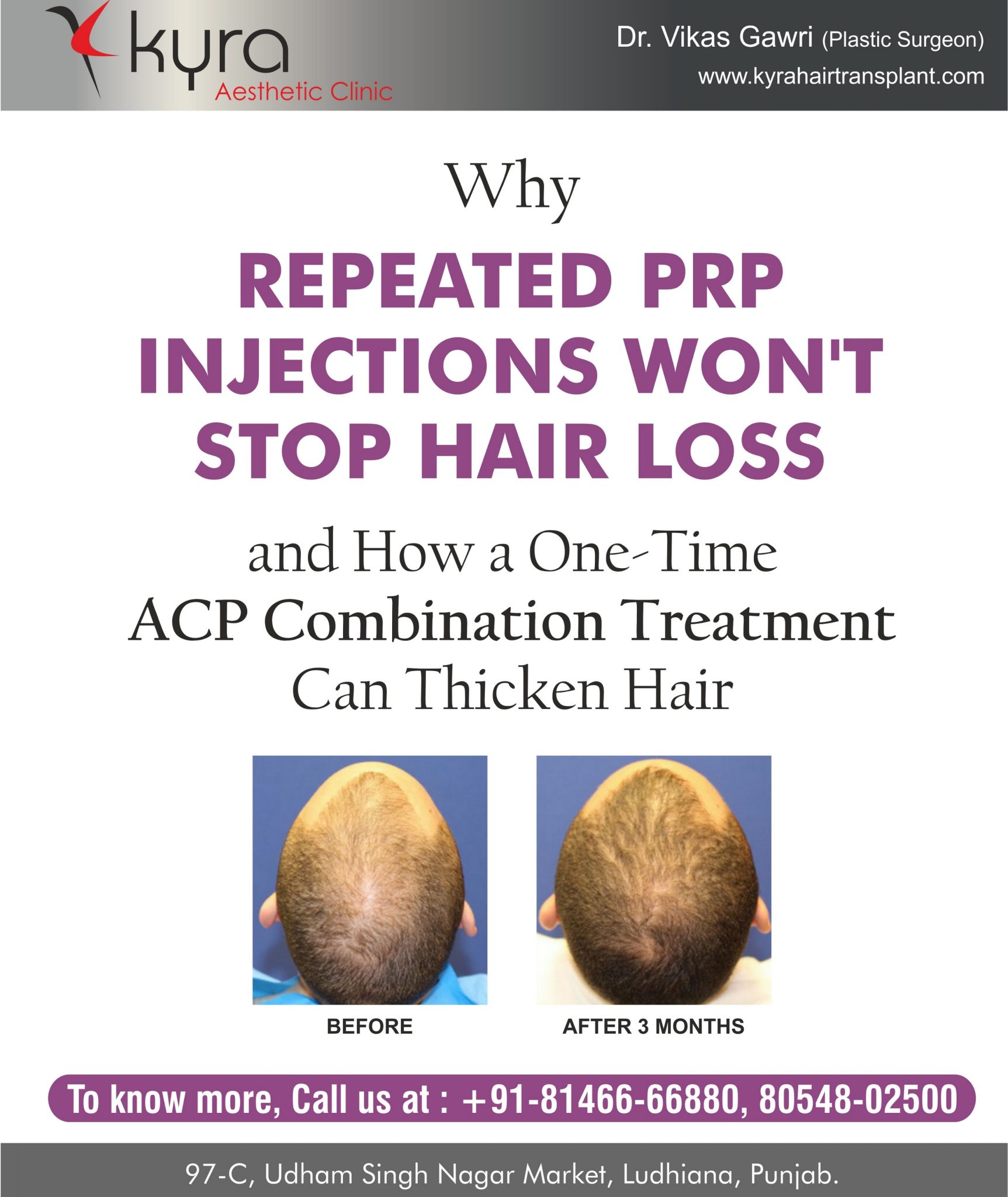 WHAT HAPPENS DURING THE PROCEDURE?

The following steps will be administered during the PRP treatment for hair loss –
Medical professionals will draw blood from a vein, typically from the arm.

The blood sample will be placed in a centrifuge, where the blood is spun to separate its components.

The platelets will be extracted from the sample and injected into the targeted regions of the scalp.
The process usually takes an hour, and several sessions will be necessary to see a noticeable difference.
WHAT ARE THE RISKS?

As the PRP treatment requires the components of the patient's own blood, the chances of risks are limited. However, there can be a few side effects that may occur.
Swelling

Headache

Itching

Scalp tenderness

Mild pain

Temporary bleeding
Before-After Gallery
View All
Mushtaq Khan-Celebrity-1440 Follicles
Jasswinder-1950 Follicles
Abhijit Lahiri-Celebrity-2500 Follicles
Rakesh Shrivastav-Celebrity-2650 Follicles
Gaurav Sharma-3550 Follicles
Sukhvinder-5660 Follicles
Gaga -Beard Hair Transplant- 4100 Follicles
Amarjit Beard And Moustache Hair Transplant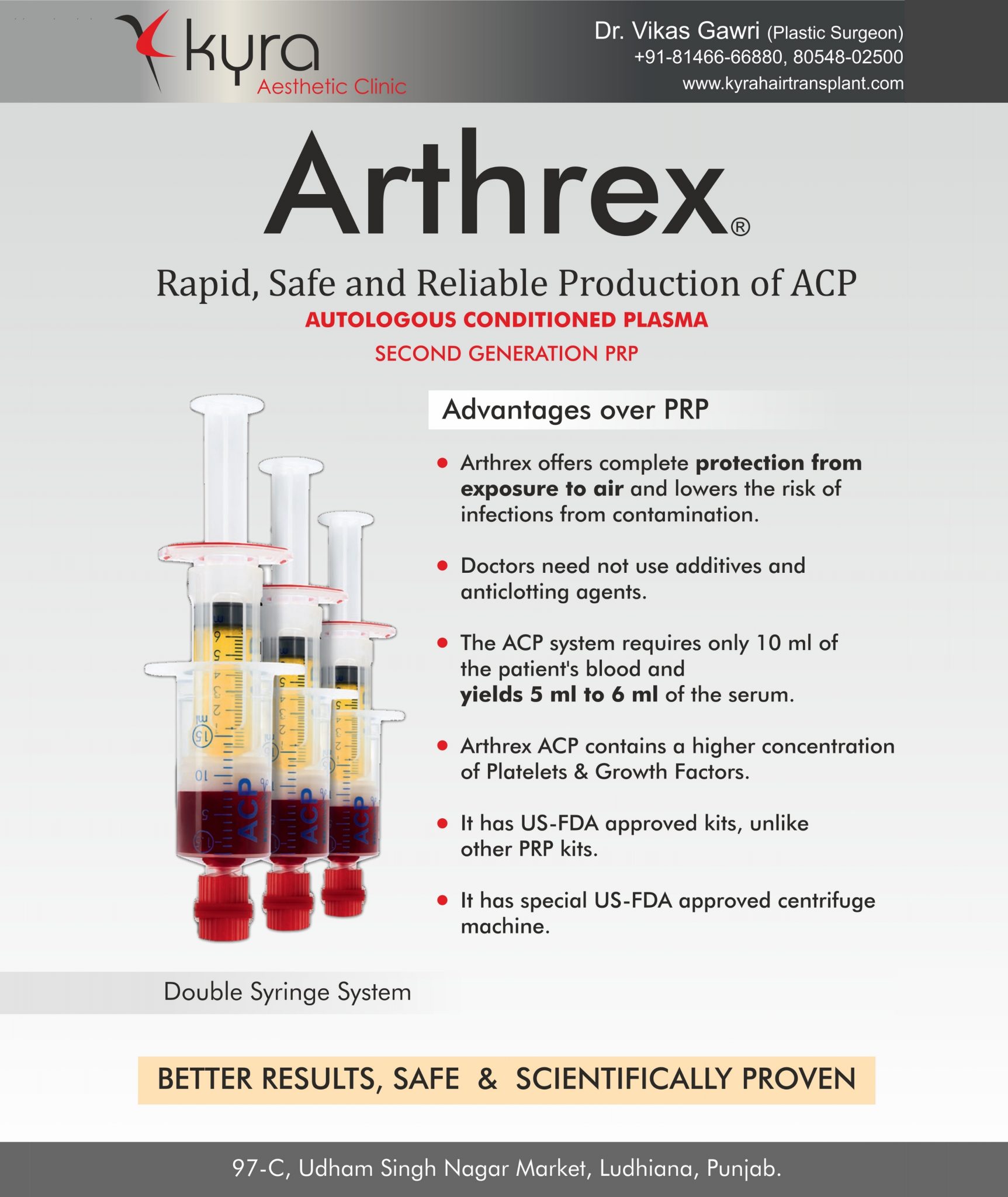 WHAT RESULTS TO EXPECT?

PRP injections have shown promise in both female and male hair loss without causing major side effects. The treatment has the potential to boost hair density and thickness as a standalone treatment and even after a hair transplant surgery. However, the results of the PRP treatment are not permanent. You need to opt for the treatment every year to maintain the results.
WHO NEEDS THIS PROCEDURE?
The best candidate for PRP treatment for hair loss would be anybody who is experiencing hair loss recently because it can be difficult to revive hair follicles that have remained dormant for a long time. Ideally, the scalp should have patches with "weak-quality" hair growth with functioning hair follicles.
WHY CHOOSE KYRA AESTHETIC CLINIC?
When it comes to the best clinic for PRP treatment for hair loss, Kyra Aesthetic Clinic can help. With world-class doctors by our side, we will offer the treatment that is bound to keep you happy and satisfied. To learn about our treatment cost, book a consultation today!
Frequently Asked Questions
WHAT SHOULD I DO AFTER THE PRP TREATMENT SESSION?
After the treatment, make sure you do not wet or wash your hair for at least 3 hours. You should also avoid using hair products for 6 hours at least after the treatment. In addition, you must avoid swimming, steam rooms, and saunas for 2 days after the session. Heat exposure and vigorous exercise also aren't recommended.
HOW LONG WILL THE EFFECTS OF THE TREATMENT LAST?
Patients can see the benefits from the treatment in about 12 months. You will need the treatment every three months, and repeat sessions are necessary to see a difference.
IS THE PRP TREATMENT PAINFUL?
There can be pain at first, which could also result in swelling around the area. The swelling is necessary to allow blood cells to heal the area in the long run.
CAN I OPT FOR PRP AFTER A HAIR TRANSPLANT?
PRP injections help in making the grafted hair better and stronger. They let the new follicles survive better, leading to new hair growth. The treatment can treat and prevent hair loss after the transplant, which can be beneficial for the entire scalp, irrespective of whether you have undergone a transplant procedure earlier.